Treat your pet to the ultimate pampering and grooming experience
THE ALL IN DOOR TO DOOR SERVICE EXCLUSIVELY FOR SMALL DOGS
Specially conceived to provide a fun, calm, relaxing and safe environment in which your pet can be groomed, indulged and revitalized.
Treat your pet to the ultimate pampering and grooming experience : The Spa and Pamper day. The combination of doggie daycare with lots of excercise, socializing and playtime in the morning, along side a balanced meal and a well deserved siesta at noon results in a relaxed stress free pet ready to be fully pampered with a aromatherapy and ozonized Spa bath before finalizing with full grooming session.
Membership is easy! All you need to do is have a small sized dog upto 8 Kg. and comply to our boarding requirements.
About our resident groomer :Di Sousa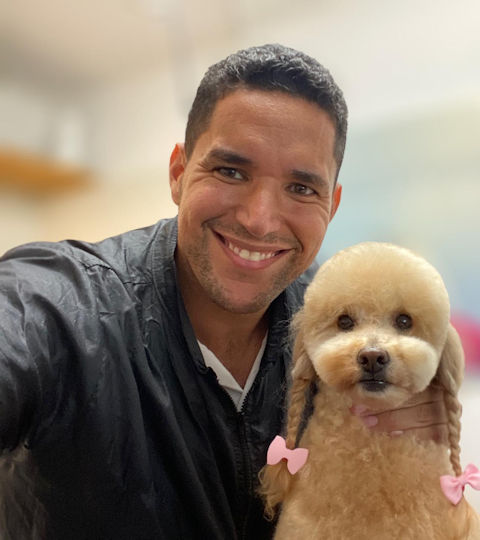 Di Sousa
Responsible for Sa & Pamper Club
Dog Groomer since 2015 , Di has a proven track record of top quality grooming.
He has won many championships throughout Europe and has been nominated Spain´s best groomer in 2019.
He is known for the precision in his work, the amazing facial expressions he creates and as a master groomer in stripping techniques.
If you want your dog to look amazing and appreciate the soft beauty inspired by asian fusion Di is definitively the groomer you are looking for.
Tiny Dog Hotel